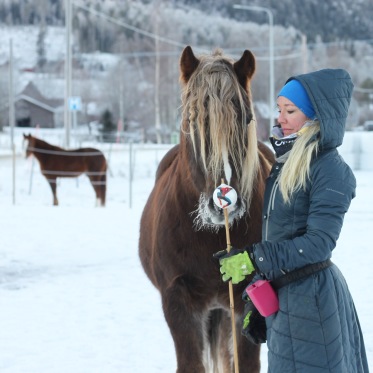 Improve balance, body awareness and communication with positive reinforcement. Guided by learning theory I aim to create a fun and relaxed way of approaching dressage according to the ideals of the Academic Art of Riding that the dressage is for the horse, not the horse for dressage.

I focus on balance. Both emotionally and physically. Do you want to create a better relationship with your horse? Find a better physical balance and work towards straightness?

I think gymnastic excerices offers important brainwork for both you and your horse as well as improving both of your bodyawarenes
Im also looking for a balance between relaxation and motivation. A creative horse that wants to work with her trainer. It is up to us to set the horse up for success! I teach everyone who wants to learn and my goal is to provide yo with tools so that you´re getting better and better in helping yourself. I offer online-coaching via mentorship programs, coaching calls and webinars. I give clinics and courses wordwide. Weekstudents are welcome to our small homely yard in the middle of Sweden. If you want to know more about me, have a look at my CV.