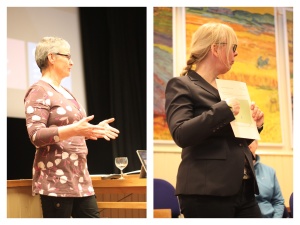 A weekend of empowering.

Back from a fantastic weekend with Rachel Bedingfield from Connection Training and Rachael Draasima from Calming Signals of Horses.

What difference does it make to take our horses feelings in account in your horsekeeping and training?
-All the difference!

Rachel started Saturday talking about emotions as innate systems, not something you learn. Feelings makes you move in one direction or another. Either you move towards something or away from something.
She has studied Jaak Panksepps work in depth from her view as a horstrainer. I think some of us in the audience already was familiar with parts of Panksepps work about core emotional feelings but lacked practical examples of all of them with horses. This led to many great questions with following discussions.


Im sure we all left with new perspectives on our horses need to express all their feelings and how much variaty there is between horses.

Läs hela inlägget »